"Thank you Bob and Genie, Neil and Kay for the wonderful Memorial Weekend – Just Perfect
-Hayli & Eli
2/14/20
"We had an amazing time. This was our first Valentines together – Looking forward to many more – We will be back!"
-Troy Grimes
1/3-4/20
"A great time to get away and a great place for our 22nd anniversary. Thanks so much!"
-Len & Becky Singleton
7/13/19
"Great Junior League of Lufkin girls retreat. Enjoyed the tour by Mr. Flournoy and the amazing hospiality & food! What a great way to learn about our team and grow our bond and get a lot of business done too! We can't thank you enough!
– Tracy Nichols
05/10/19
"Kay, our Diboll Garden Club members thoroughly enjoyed having our March meeting at the Mansion and the comment was made that is was the BEST ever trip. Bob was his usual entertaining self, and the lunch you and Neil served was delicious. It couldn't have been a better experience!"
12/18/17
"As we drove up to the lodge, we were intrigued by the eagle, rocks, and flowers. It was very inviting. The outside of the lodge appearance welcomed us. Once you step inside it takes your breath away with the ceiling with all the beautiful wood. I immediately thought how so much hard work went into cutting and assembling it. The design is unusual and it expresses warmth and such a good feeling that it puts a smile on your face. The beauty of the lodge makes me think of how hard you two worked to put it together and you never gave up working on it. The magic wand potting was a hoot! I could see the "Genie Touch," in all the decorations and furniture. It was so unique. The patio was dramatic as well as the walk way which leads us to the pond. It was so peaceful there and we truly enjoyed our stay there. Thank you so much for making our weekend "A Time to Remember." You two are exceptional people who have given so much to the community. We thank you for that."
-JoAnn & John Tatum
12/13/17
"I've stayed at many B&B's and this one is a 10 out of 10! I'm hoping Ed and I will return on another trip this way.'
-Bobbie
"Mr Smith, words are too small of a thing to use in order to express my mother and my gratefulness of your hospitality and great conversation. The warmest and kindness that we experienced throughout our entire stay, will remain with us as one of our great mother and daughter road trips! Don't change anything at all! All our best!"
-Teshelia Walker & LaKesha Bridges
9/18/17
"What an amazing job you have done to keep the legacy of Beaver Creek Lodge! We love being here and the new digs were thoughtfully and tastefully completed. Once again we imagined that an owl was above the front door in the shadows of the glass and wood, just as we had previously. We wish you many wonderful times here and now. We can't wait to come back!"
-Ron and Pat
9/11/17
"Thank you! Thank you! Thank you!"
"We appreciate the time you spent with us sharing of the rich history of the area and the familial antidotes!! Your kindness and hospitality was superb! I will definitely tell all my Texas friends and family about both properties. This was an amazingly relaxing evening for us. Thank you so much for sharing your family home in such a generous manner."
-Bill & Michelle
9/10/17
"Thank You!
Your house and hospitality is amazing! Everything was delicious and well cared for.
I pray God blesses you and your house and brings you plenty of couples you can touch and inspire."
-The Butlers
9/9/17
"Thank you so much for letting us stay in your beautiful home. Breakfast was delicious. Could feel a lot of love and wonderful memories were created here, a generation of love and hospitality that was passed down for many generations."
-Wayne & Rebecca
9/8/17
"What a blessing it was to start our forever together here at the Beaver Creek Lodge. Today was a day I have been looking forward to since I was a little girl. Thank you for opening up the lodge to us and helped make our proposal day PERFECT!"
-Dylan and Ashlynn
"Folks, Jacqueline and I had a wonderful two nights here at the Mansion. Secluded, surrounded by beauty and wrapped in the history of days gone by. We were able to take stock and talk in a way you just can't do in Houston. Thank you for the memories."
-Jason & Jacqueline
09/04/17
"This home, room, property and everything was exactly what my husband and I needed. So beautiful, calm and quiet. Such a lovely haven ya'll have created here. Thank you for the breakfast and fun conversation. This weekend truly helped my husband and I reconnect in a way we deeply needed. We hope to return one day!"
-Jon & Lisa
"A beautiful home rich in history! We truly enjoyed our stay. Happy memories!"
-Danny and Hannah
---
"Food was great, everything was great. I will recommend this place to everyone. Thanks."
–Josh and Suzy
---
His Life – The Musical.
"Our team was blessed, again, by the hospitality and comforts of Mansion on Sawmill Lake and Beaver Creek Lodge. Lonnie and Carolyn were most gracious and we all were restored and rested. God Bless You!"
–Randy
---
(Songwriting expedition) "The peace and beauty in this place were surreal. I'm thankful for my time here. I was able to move forward in my music with this idyllic setting. Thanks for having me. I couldn't ask for much more peace! Thanks!"
–Brett
---
(Birthday & Honeymoon) "This was the best relaxing weekend getaway. The house is amazing. All of the history (pictures, books, antiques) are priceless. We will for sure be back and hopefully bring more family with us. Dinner and breakfast was perfect. Couldn't have asked for a better time!"
–Kennedy and Andrew
---
"This old, wonderfully restored home was as charming as you'd want for your own home. Everything was just a perfect blend of historical furnishings and modern conveniences. We enjoyed a wonderful two days with our eight family members. We could not have had a more relaxing time anywhere else in this part of East Texas."
–David
---
"Wonderful stay at Sawmill Lake! Breakfast was fabulous! Peaceful and lovely place!"
–Rodney and Kay
---
"Great place! Quiet and peaceful! Just a wonderful place to unwind
–Jay and Becky
---
"Had a quiet time! House and service is wonderful. So peaceful! Would definitely stay here again!"
–Trish and Wes
---
"We fell in love with this old house a year ago when we stayed here to attend my now sister-in-law's graduation. This year we came back for our honeymoon and once again, our stay was wonderful! I can't think of a more perfect way to start my new life with my new husband!"
–Katherine and Kurt
---
"Great place to stay! Quiet and very relaxing! Beautiful place! Enjoyed our time."
–Kay and Kari
---
"The most beautiful and mesmerizing place. Never had such a wonderful day in my life. Thanks for making our special day even better. Loved the hospitality! I will definitely come again."
–Venkala and Padmini
---
"So very many thanks for such a peaceful and relaxing stay. I/we hope to return some day."
–David and Nancy
---
"Amazing grounds, food, house and "frog" concert. Fly fished and caught a few perch. So relaxing!"
–Gary and Jane
---
"This is an enchanting place for our magical New Year's Eve wedding."
–Andrea and Ray
---
"We were referred to the Mansion by another B&B owner in the area and they couldn't have made a better referral. The setting was like going back in time a bit. It worked out that we were the only guests that weekend and we had the house to ourselves. We felt like southern royalty. The decor was beautiful and absolutely perfectly balanced for that time period. The bed was one of the most comfortable that we have ever slept on and the room charming and spacious. We didn't miss television or internet at all! Although it was still cold out, the grounds were perfectly manicured and outdoor area offered a couple of gazebo style seating areas with comfortable chairs and table with places to cook out or have an evening fire. The chapel and wooden bridges would be perfect for weddings and celebrations. The innkeepers Carolyn and Lonnie were a treasure; pleasant, informative and great cooks! They were available for anything we needed the entire weekend. We are looking forward to going back in the spring when all of the flowers and trees are in full bloom. We would recommend this lovely place to anyone looking to get away and commune with nature or to secret away in another world for a while."
–Laurie & Garner (Lufkin, Texas)
---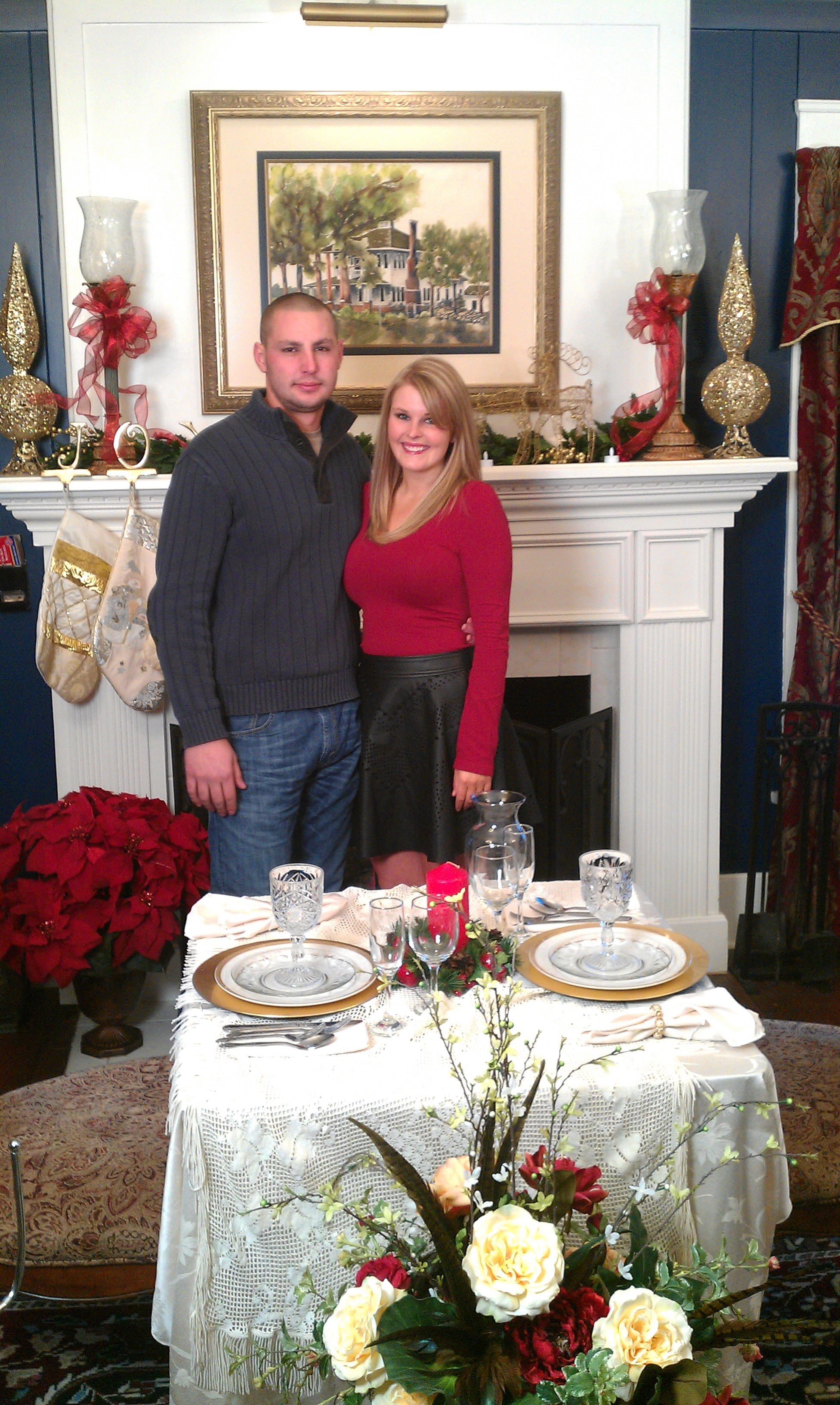 "The best place for a "relax and recharge" weekend. A great gem in the middle of the Pineywoods! Food was beyond regular B&B fare, the best I've had. Rodney and Judy are wonderful hosts of this grand home which makes you feel pampered and peaceful at the same time. Looking forward to coming back and bringing friends along. One of our best anniversary celebration get-a-ways."
–Kris & Scott (Lufkin, Texas)
__________________
"Well I don't believe we could have asked for a better wedding and stay. The weather worked out great with a nice breeze coming off the big sawmill lake. The sunset was beautiful on the back porch and worked out great for our wedding. We had a great night after the wedding in the "Heart to Heart" room, the bed was really comfortable and Cassidy loved the big sleigh bath tub. We got probably the best sleep ever followed by a breakfast that was equally as amazing. I can't write how good Miss Judy's French toast and breakfast was here. I will just say we are already planning our next trip back! Y'all are were great hosts and we enjoyed our time here."
–Blaze
____________________
"I could not have been happier! This trip was planned so I could propose to my now fiancé and the weekend went perfectly. Brice suggested a private dinner for two the night we arrived and the food was exquisite. The house, the room, the grounds and the scenery were simply beautiful. You went above and beyond to make sure we were taken care of, including a dozen roses at dinner for my fiancé. We will definitely be going back. Just home from a year overseas and this place was paradise in the woods. Spent the evening at diner in Lufkin, eating and drinking wine. Came back to the room and sat up talking all night with the porch screen open and the sounds of the night coming in. The bed was so comfortable I didn't want to get up – but the breakfast was worth the early rise. So much delicious French toast and coffee! After the meal we took a drive to the cabin with the owners. Such a great morning. We are so grateful for the hospitality and the kindness shown to us in this unique and wonderful house. I can't imagine having this experience anywhere else. We will be coming back and bringing friends."
–Darren & Jessica
---
"We loved our stay here at the Mansion. Awesome help! The wedding turned out beyond perfect with great weather, perfect lighting, the sunset and beautiful location. We could not have asked for a better experience; it was absolutely perfect! We slept great in the comfortable bed. Woke up and received the best breakfast we ever had. We even have agreed to come bank & stay again! We were comfortable here and enjoyed every second of our stay. Felt like we were home, that's how comfortable we were. Thanks again & glad we could be the first at this new B & B. We will most definitely recommend to everyone. It was wonderful!"
–Cassidy
---
"What a beautiful, enchanting place to relax & unwind! I thought this was going to be a romantic trip for two & my trip ended with an engagement ring and countless memories to take with us. Flawless surprise! The land is magical, the hospitality absolutely remarkable. We will definitely be back!"
–Sara
---
"Une belle demeure dans un cadre relaxant. Notre chamber était grande avec une agŕeable terrasse. La literie est impeccable et la propreté. L'accueil de est chaleureux vous vous sentez tout de suite á l'aise. Un grand merci, pour ľexcellent petit deliceux que gargantuesque uqe vous nous avez servi á votre table d'hotes.
(A beautiful house in a relaxing setting. Our room was large with a nice terrace. Bedding is impeccable and spotless. The welcome is warm Brice you feel immediately at ease. A big thank you for the excellent breakfast and dinner as delicious as gargantuan as you have served us your dinner.)"
–Alsace, France
---
"Certainly a jewel of a house in such a beautiful and peaceful setting. First weekend in December, the house decorated for Christmas, the weather in the upper 60's and we were fortunate enough to have the house to ourselves. Love the hospitality and the rich history. We will definitely come back."
–Chris & Angela
---
"It was good for us to be here" husband Clinton said while we were eating our 1st of three best breakfasts eaten at a B&B! We really had a great time eating, laughing, fishing, walking and fellowship with this community! This was a very relaxed and beautiful estate to rest in. You gave us all a great time and we hope to return soon with more of the family! May God continue to bring prosperity and blessing to this place and may you always serve your patrons as good as you served us!"
–Clinton & Donna (Garland, Texas)
---
"We loved our stay here at the Mansion! Most of what I write will probably sound cliché but is true. Rodney and Judy are the best hosts we have ever had at a B&B! This place really feels like home to us. The breakfast was perfect. My wife and I were intrigued by Manning and its history and what a great place to experience it! We walked to some of the ruins and took some pictures. We really enjoyed talking with Rodney and Judy. This place is so peaceful and has a calming effect on the soul. We wish everyone could take a trip to Manning and stay in the Mansion. I'm sure anyone that does will come to realize what a precious jewel this place is."
–John & Andrea
---
"What a lovely visit we had at Sawmill Mansion. We so enjoyed our conversations with both of you. The spacefulness, relaxation and attention to detail really contributed to the retreat experience. And the breakfast…well what can I say. We will be talking about the food and friendship for a long time.
Peace and blessings,"
–Leo & Kay (Kerrville, Texas)
---
"Love this house! Love this room! We felt so at home and you were such gracious hosts. The scenery was lovely and we caught many bass in the lake and pond. It was the perfect getaway in the perfect location. Breakfast was phenomenal! Could not have asked for a better stay. Next time, we'll stay longer!"
–Jonathan & Jill (Lufkin, Texas)
---
"Thank you for sharing your home and hospitality. As experienced B&B travelers, we recognize when entrepreneurs enjoy their passion and truly take an interest in their guests. We will be back for the serenity, solitude, outstanding breakfast and peaceful fishing."
–Charlie & Wendy
---
"We had a great time here. The Whippoorwill room is beautiful! We enjoyed
the balcony and view as much! The breakfasts were wonderful. We've
stayed at several B&B's and this is now our favorite! We can tell you've
spared no expense and left no stone unturned on renovating this home.
Excellent job!"
–Becky & Mark (Arlington, Texas)
---
"We enjoyed a wonderful weekend here at the Mansion. We were here for our nephew's wedding, and I must say this house and the grounds are a perfect place to have such a memorable event as a wedding. The history attached to this house is absolutely fascinating and just adds to the grand time we all had. Thank you for sharing this beautiful place with us."
–Ray & Sandra
---
"What a beautiful place to relax in! The Mansion is beautifully decorated. Rodney was so gracious and fixed fresh coffee for our evening enjoyment accompanied by a delicious bread from his wife. Miss Judy, breakfast was WONDERFUL! What gracious hosts. God knows the pathway we will enter next week and allowed us to come here and relax and reflect. If chemotherapy gets too bad, we can stop, take a deep breath and remember the week-end here!"
–John & Fran
---
"We enjoyed our stay at the Mansion. It is so peaceful here! Breakfast was delicious! Miss Judy and Mr. Rodney made us feel so welcome! This is our 23rd anniversary and we wanted to get away for a short while to celebrate all that God blessed us with. This was the perfect place to do so! We toured the Lodge and its is just as beautiful! As we go back to our every day lives, we will carry our memories from this precious place."
–Dan and Selena
---
"Brice, you gave us the best customer service. The time you took in showing Stacy & Donna how to fish will never be forgotten. Stacy caught her first fish because of your patience and knowledge. We must admit that your cooking skills weren't too bad either! Our mother wanted to treat us to a relaxing retreat, a getaway from the hustle & bustle of city life and she did just that by bringing our family to this wonderful historic home. Thank you, you are the best!"
-Wooten & Mosley Family (Austin & Dallas, Texas)
---
"Our visit to the Mansion B&B was wonderful. You are a marvelous host and chef, so friendly and hospitable. We loved the Whippoorwill Room with balcony. We enjoyed the porch swing, beautiful country side and learning the history of the area. Thanks so much for everything."
-Steve and Sandra (Mesquite, Texas)
---
"It was a wonderful retreat and a trip down memory lane. I learned new stories about Manning and my husband's childhood on the prairie. You served spectacular food and graciously accommodated to our dietary restrictions. The beauty of this land is stunning and its story is fascinating. The best part was reconnecting with family and having a relaxed time with my husband of 50 years."
–Mary Anne Flournoy (Athens, Ohio)
---
"What a beautiful house and surroundings. After our day spent hiking in the woods, it was sheer heaven to relax in this lovely house. My son gave us this trip as a surprise 60th birthday present. We came from Ireland. We have met gentle, polite and friendly people. Best regards,"
–Mike Greta & Andrew (Shannon CoClare, Ireland)
---
"We sure enjoyed our stay here. It was my wife's birthday and I wanted to do something different and special and this was both. We enjoyed the nostalgic of yesteryear and learned some interesting history about Manning. You are a great cook and the meals were delicious. We enjoyed the beauty and the tranquility. Very peaceful! Thanks for a wonderful time."
–Jerry & Charlotte
---
"Your lovely home is only outdone by your generous hospitality. Thanks so much for sharing some of the history of your families and Manning. The breakfasts and their presentation were beyond our expectations. Thanks so much, we will definitely return."
–Don and Joyce (Willis, Texas)
---
"What a beautiful home and such delicious breakfast as well as outstanding hospitality! We thoroughly enjoyed our stay, hearing stories and walking the land of Manning, where my husband's father was born. Special thanks to Judy, Rodney and Bob whom we personally met. We pray God's blessing on you all."
–Donna & Rick (Galena Park, Texas)
---
"We had a beautiful time. I've never been to a bed and breakfast and my experience was awesome. I must and will return. The food was good, company was good, and the place is beyond beautiful. Thank you for your hospitality."
–Celicia & Everett (Lufkin, Texas)
---
"We stayed here for the weekend and enjoyed ourselves. It was my husband, son, daughter-in-law, daughter and son-in-law. The food was very, very good. We enjoyed the beautiful grounds and the porches. We hope to come back soon."
–Stacy & Velma
---
"Coming here was a surprise from my husband. This has been the best surprise ever. We are celebrating our twenty-second wedding anniversary. The property is very beautiful. We loved everything about the house and grounds. You do a wonderful job of making people feel welcome and comfortable. The breakfast was awesome – so was the visit. Thank you so much for sharing your family and its heritage with us. We will definitely be back and tell all our friends and family."
–George & Tracy (Vidor, Texas)
---
"Mary Anne and I stayed at the Texas Forest County Retreat at Manning, Texas and stayed in the Whippoorwill Room on our 50th Wedding Anniversary celebration. It was special because it was the very room I slept in (with my 3 brothers) from 1945 – 1955, (but then there was no electricity, there was not running water, lights, heat or air conditioning). Much nicer to be here with my sweetheart, sleeping in and being served breakfast by Brice, and an afternoon Bar-B-Q for all the Flournoy, Toups and Hay relatives."
–Don Flournoy (Athens, Ohio)
---
"A wonderful opportunity to experience this part of East Texas history.
A beautiful home with every detail to make our stay a perfect and peaceful time and getaway from our busy life. Judy and Rodney were so warm and helpful. Kay and I had a wonderful time! Outstanding breakfast!"
–Pat (Lufkin, Texas)
---
"We had a very relaxing and peaceful stay at your inn. Rodney and Judy were
very gracious and hospitable. The inn and grounds are outstanding. We
truly enjoyed our stay and if we are visiting the area again, we will return."
–Michael & Deena (Oklahoma)
---
"We really enjoyed our stay at your beautiful B&B in Manning. Thank you both for the great breakfast and wonderful hospitality! The grounds and house are just beautiful and very well done. Even though it is rainy this trip, we enjoyed our time here and hope to visit again."
–Rhett & Cathy (Liberty, Texas)
---
"We enjoyed a lovely evening and night here at the Sawmill B&B for a surprise birthday present from our lovely daughter. We had the whole house to ourselves. We would recommend this lovely B&B to all. Thanks for the fantastic breakfast and comfortable bed."
-Marilyn & Van (Center, Texas)
---
"Stayed in this beautiful home on Dec. 14-16. Amazing time. Enjoyed the history of this home and the stories told by Judy & Rodney! Woke up Sunday morning to rain – oh what a lovely sound on the tin roof! What an awesome piece of history in this home. Hate to leave but back to reality."
–Tommy & Christy (McKinney, Texas)
---
"Thank you very much for opening your home to us. We had a wonderful stay in this history filled home! We enjoyed so much reading about all the past that has happened here. The stay was truly a blessing for us. Thank you!"
–Derek & Logan (Rockett, Texas)
---
"I was very happy to find that there was such a great place in East Texas for weddings and family reunions. It is very well kept and I will continue to recommend it to everyone I know.
"Beautiful house! Weddings are perfect for here, enjoyed the quiet & peace."
–Dale (Classen Wedding)
[divider type="divider"]
"Thank you so much for allowing us to come. It was a great pleasure. The home and grounds are beautiful and the food fabulous, but the greatest was the company! Thank you again,"
–Steve & Kim
---
"What a lovely room and great lake. We had fun fishing and watching the birds.
Thanks for your hospitality."
–Rebekah & Andes (Houston, Texas)
---
"May the Lord continue to bless you and your family always!
Thank you for the pleasant stay.
God bless."
–Mike & Natalie (Cypress, Texas)
---
"Very enjoyable weekend. Loved the place!"
–Bill & Gina (Nacogdoches, Texas
---
"Texas Forest Country Retreat is by far the best venue!! The entire crew worked so hard to make our day perfect! We had the best weather, prettiest venue, & most helpful people. We couldn't have asked for a more perfect day!! We would recommend them to anyone we know getting married!"
–Cody & Kaley
---
"We had our son's wedding here last weekend. With the rain, we were so worried. We couldn't have asked for a more beautiful place. Jamie and Jennifer were the best! Thank you much for everything you both did to make a rainy day into a perfect wedding!"
–Jamie
---
"Absolutely beautiful place. One of the most gorgeous weddings I've ever been to was here!"
–Sharon

---
"Awesome experience and beautiful place to stay. Top notch hosts also. It's a win win in my book."
-Daniel

---
"We just returned from the most relaxing stay at Texas Forest Country Resort. Since we received the weekend getaway as a gift we didn't know what to expect. We didn't know we would be served incredible breakfasts. We didn't know we would be spending the evening sitting by a roaring fire. We didn't think we would be able to pull a chair up to the water's edge as we sat in the early spring sun to read and listen to the birds. We didn't expect the innkeepers and other guests to be so fun to be around. We just didn't know!
Thank you Jennifer and Jamie Coogler for being such wonderful hosts. We can't wait to return!"
–Cheryle
---
"Perfect for a stress free weekend getaway! The mansion is beautifully cared for and we had fun walking around the property. The breakfast was delicious. James and Jennifer, the inn keepers, made us feel at home."
–Julie

---
"My husband and I spent our wedding anniversary in the Heart to Heart Suite and never wanted to leave. James and Jennifer were incredibly personable and caring. James whipped up better-than-restaurant quality breakfasts and even catered to my vegan diet. We'll be visiting their Beaver Creek Lodge property very soon."
-Stephanie
---
"Had an amazing time!! Such gracious hosts and awesome cooks. The views were spectacular. What a great way to start off the holiday season!!"
–Ashley
---
"We loved it! Breakfast was perfect! It was a wonderful place to recharge and celebrate our 2 year anniversary!"
–Orianna
---
"Thank you James & Jennifer Coogler for your hospitality. You made us feel like we were part of your family. We enjoyed the delicious breakfast every morning!! We loved our room in which we stayed, The Heart to Heart Suite at the Mansion. On our first night it rained. Which was perfect. The rain hitting the tin roof lulled us to sleep. I haven't slept that soundly in a while. Simply amazing!!!
We would definitely recommend Texas Forest Country Retreat to our friends and family.
We will be back for sure.
Thank you again, James and Jennifer"
–Mary
---
"I attended a wedding here and it was the most beautiful wedding I've ever seen! This place is the stuff that dreams are made of and I highly recommend it to anyone looking for the perfect wedding venue."
–Cindy
---
"Mr. Bob Flournoy is one of the finest men we have met in a long time. Sharing his childhood home with others for important life events is praiseworthy. This venue is the perfect setting for a wedding like we had for our daughter May 3, 2014. The grounds were beautiful with the rose garden in full bloom and everything manicured to perfection. The gorgeous mansion was a great place for our daughter, Lauren, and her bridesmaids to relax and prepare for the wedding. The Lodge at Beaver Creek offered sanctuary for her groom, Jason, and his groomsmen the night before and the day of the wedding. Together, Bob and the ladies from Bella Spree in Lufkin, made our daughter's wedding a memorable occasion that family and friends will be talking about for some time to come.
God bless you, Bob!
Love and appreciation,"
–Kenny and Alane
---