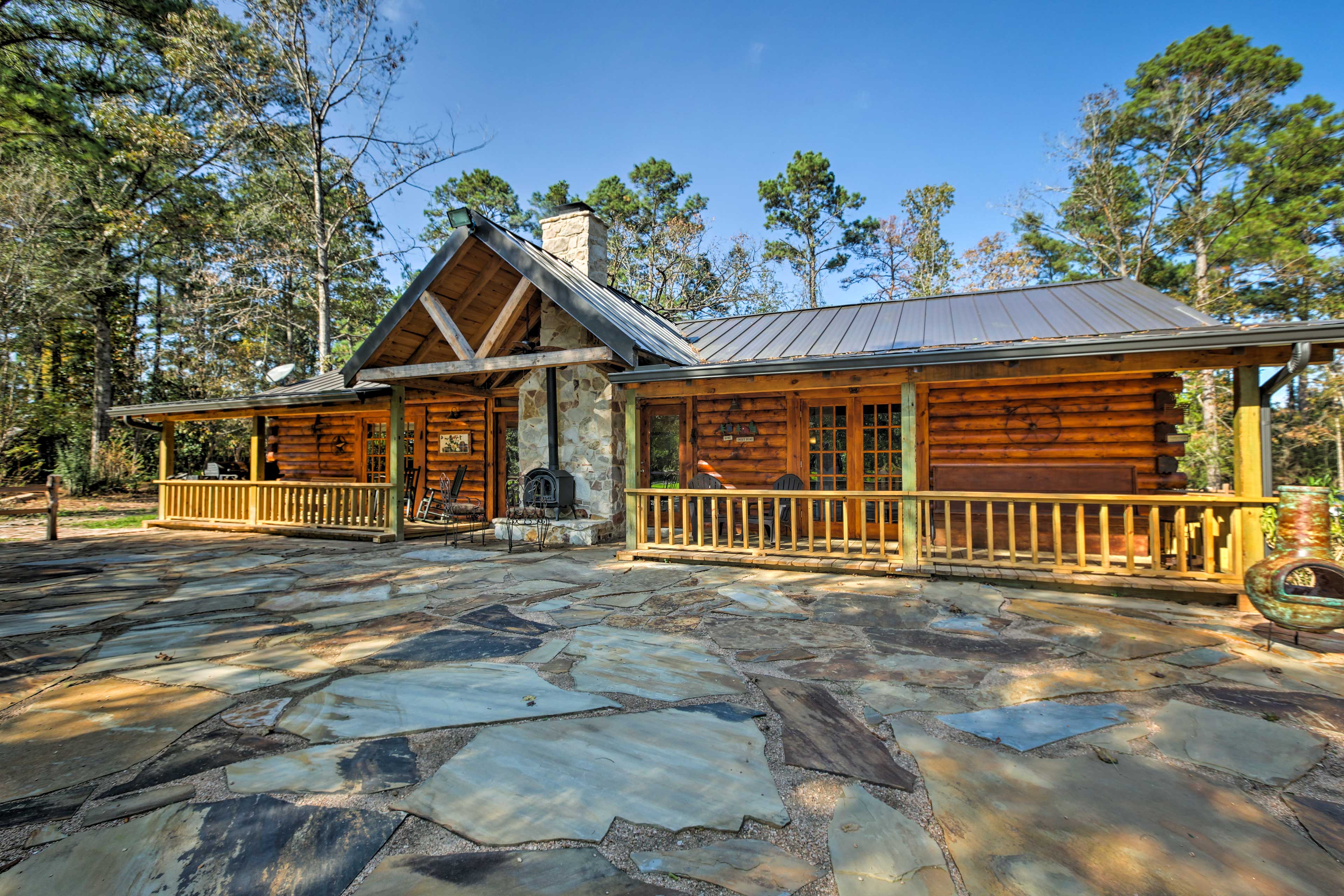 This is an awesome place. It is very secluded but only about a mile from the Mansion. This amazing log house is what you would expect to find in Colorado. Overlooking the cypress-lined Beaver Creek Pond and thousands of acres of privacy, you will not want to leave. It is a fully equipped home with a great back porch, complete with rocking chairs. You will quickly become addicted to the charm of this cabin as you relax in one of the swings or gather around the fire pit on the back patio.
Take in the wild side at Beaver Creek where you can expect to see hogs, deer, coyotes, and the bald eagles that fish the ponds as well as Sawmill Lake, just like a Nature Preserve. Fish, paddle boat, relax in the swings or curl up on the leather couch in front of the big rock fireplace. From there, take a sip, and write your review of Beaver Creek Lodge.
Consider this venue for your wedding, anniversary or a big birthday getaway. Beaver Creek is also a great place to host a guys or girls getaway. Bring your friends and forget about life's stresses. There is no more beautiful place for it than Beaver Creek. Book your reservation now to see for yourself.
Attached to the rear of the lodge is a grand stone patio that makes for a great outdoor entertainment space. The patio includes great views of the surrounding forest and ponds. So sit back and relax and take in East Texas' natural beauty and active wildlife.
Exclusive use of Beaver Creek Lodge and the surrounding forest and ponds.
2 Bedrooms
2 1/2 Baths
Master Bedroom w/ 2 person spa tub
Lighted Shower in second bathroom
Large Stone Fireplace
Satellite TV
Full-Size Kitchen
Dining Room
Living Room
Large Back Porch w/ patio and swing
Large Outdoor Entertainment Space
1000 acres of East Texas to roam
Ponds great for fishing
Includes use of Hunter's Cabin