"Genie and Bob,
As we drove up to the lodge we were intrigued by the eagle, rocks, and flowers. It was very inviting. The outside appearance of the lodge welcomed us.
Once you step inside it takes your breath away with the ceiling with all the beautiful wood. I immediately thought how so much hard work went into cutting and assembling it. The design is unusual and it expresses warmth and such a good feeling that it puts a smile on your face.
The beauty of the lodge makes me think of how hard you two worked to put it together and you never gave up in working on it. The magic wand potting was a hoot!
I could see the 'Genie Touch' in all the decorations and furniture. It was so unique.
The patio was dramatic as well as the walkway which led us to the pond. It was so peaceful there and we truly enjoyed our stay there. Thank you so much for making our weekend 'A Time To Remember.'
You two are exceptional people who have given so much to the community. We thank you for that."
-Joann and John Tatum
---
"What an honor is was to be the first guest at Beaver Creek as well as being the first to write in the book! The Cabin has all the comforts we would ask for while being extremely private and secluded! The cabin was redone very well and we loved every moment! Thank you for having us and we hope to return soon!"
-Mr. & Mrs. Ducote
---
"Beautiful 2 nights her with husband – kids with grandma! Such a sweet, historical home. Loved learning about the old mill town. Great service from Carolyn & Lonny. They are the host with the most! Would love to return to the pine forests of East Texas"
-Allison & Kevin
---
"We were referred to the Mansion by another B&B owner in the area and they couldn't have made a better referral. The setting was like going back in time a bit. It worked out that we were the only guests that weekend and we had the house to ourselves. We felt like southern royalty. The decor was beautiful and absolutely perfectly balanced for that time period. The bed was one of the most comfortable that we have ever slept on and the room charming and spacious. We didn't miss television or internet at all! Although it was still cold out, the grounds were perfectly manicured and outdoor area offered a couple of gazebo style seating areas with comfortable chairs and table with places to cook out or have an evening fire. The chapel and wooden bridges would be perfect for weddings and celebrations. The innkeepers Carolyn and Lonnie were a treasure; pleasant, informative and great cooks! They were available for anything we needed the entire weekend. We are looking forward to going back in the spring when all of the flowers and trees are in full bloom. We would recommend this lovely place to anyone looking to get away and commune with nature or to secret away in another world for a while."
-Laurie Garner
---
"When a family starts a new tradition, everyone is always a little nervous wondering if it will work. The Oaks family has for years spent the holidays at my parents home, John and Valeria Oaks. There are about 23 of us and we are growing. We were forced to change that beloved tradition this year on Thanksgiving. It was our first without Mom and Dad. We chose Beaver Creek Lodge to gather children and grandchildren to celebrate the holiday, recall precious memories and make some new ones. We did just that. Caroline and her husband went out of their way to make sure we were comfortable. The old lodge and the grounds are beautiful! Thank you for giving us the opportunity to make new, precious memories. Get to the lodge and make yours!"
-The Oaks Family
---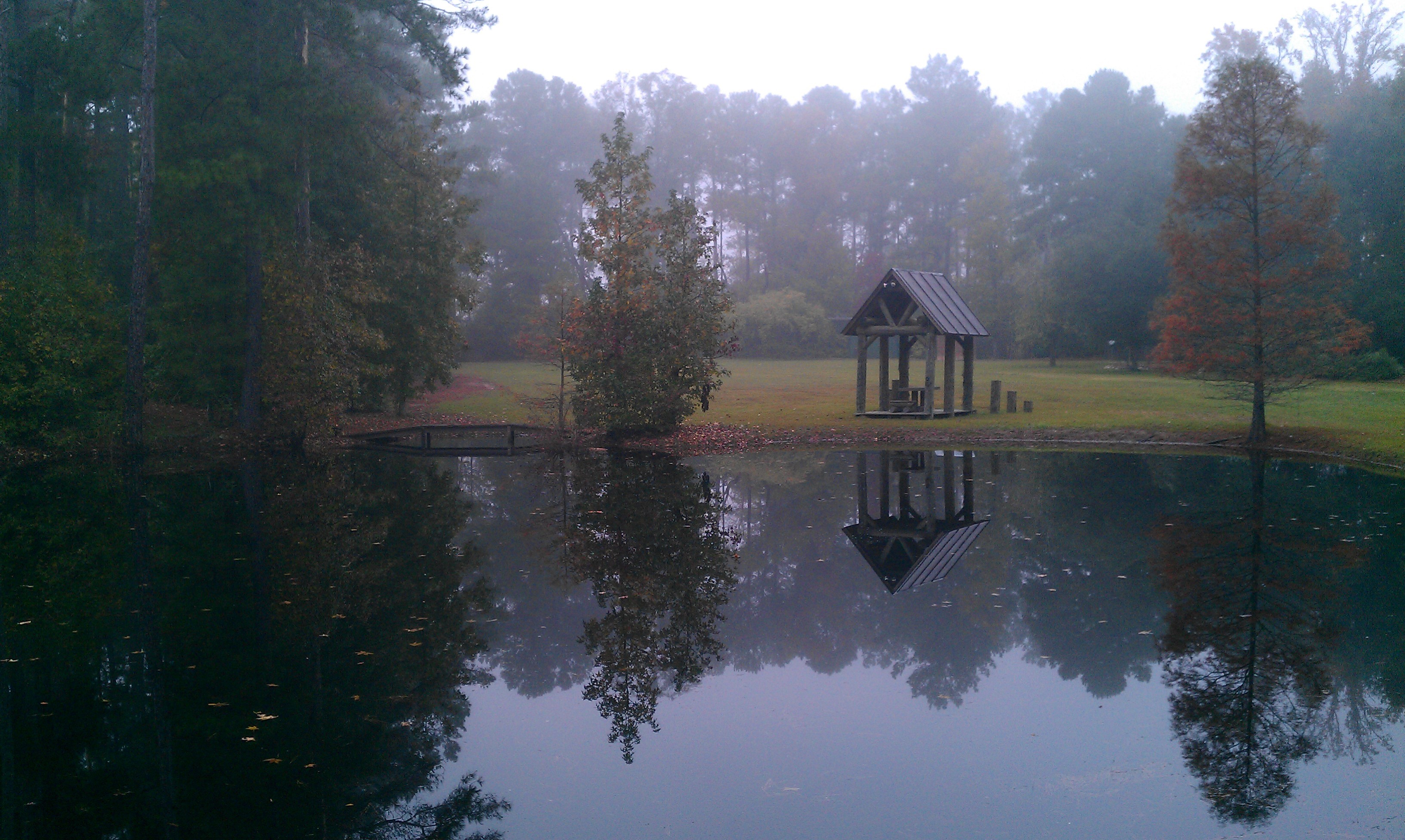 "Wow! What an awesome place! We stayed at Beaver Creek (log cabin). This log cabin is literally down a gravel road in the middle of the woods. Absolutely no other properties within site. The main B&B is about 2 miles away. The cabin is well built with that rustic homey feel. It has a full kitchen and all the amenities of home including a washer and dryer. There are 2 stocked ponds on site and a huge lake at the main house that is stocked with huge bass and perch just begging for a hook. It is so relaxing. The meals were out of this world and so plentiful that there was no way you could finish them. The manager Brice could not be more accommodating and WOW! What a chef! He came to the cabin to prepare a romantic steak dinner for my husband and myself…amazing! There is a huge screened in porch with rockers for coffee in the a.m. It was nice just to sit and admire nature. The grounds are beautiful! This place is a definite redo for the whole family when we are able to return. The main house is gorgeous however, if you want ABSOLUTE privacy, Beaver Creek is the way to go!"
-Paula (Deville, La)
---
"Thank you from the bottom of our hearts for going way above and beyond our hopes and dreams for our special day. The Mansion was a perfect setting for our wedding. It was a beautiful, lush picture of God's beauty. We can not thank you enough for allowing us to "honeymoon" at Beaver Creek. It was a perfect ending to our perfect day! The two of you hold a special place in our hearts. We look forward to celebrating milestones with the B&B and pray that God bless your endeavors."
-David & Melissa (Lufkin, Texas)
---
"Thank you so much for letting us experience God's awesome beautiful creation. This time alone away from our children (which doesn't happen often) has been great as we are celebrating our 11 years together. The cabin and the yard are so beautiful – Bobby has been in awe the whole time we have been here. He was so surprised that there was something so beautiful tucked away in the woods. We thank you so much for sharing your retreat with us. May you be richly blessed,"
Bobby and Jackie
---
"Sarah and I had a wonderful time! Thank you so much for sharing your place with us. This environment creates an incredible, peaceful, uplifting experience. We look forward to seeing you again soon."
-Stephen & Sarah
---
"We had a great and glorious time. Warm weather, good friends and a wonderful place to stay, Beaver Creek was wonderfully exquisite for our yearly college reunion. The kiddos especially loved wandering around the lake."
-Chris & Nicole (Round Rock, Texas)
---
"My stay here was lovely. I came for a private getaway from the hustle and bustle of life and I got what I came for. This home is perfect for that because it is nestled back in the woods. I heard very little traffic and enjoyed sitting on the porch listening to the tranquil sounds of nature. Thank you for your hospitality."
-Suzann (Beaumont, Texas)
---
"Thank you for sharing your retreat with us. It was also a great surprise for me. CG did not tell me where we were going until we were almost here – and wow what a surprise. I am so happy the Lord has blessed you both with this place and that you have a generous heart to share it with others. Thank you for the gift of this weekend. What a blessing."
-CG & Cricket (Dallas, Texas)
---
"Our church staff has once again been blessed by your generosity. This retreat setting allowed us to focus in a way that is impossible at our office. We accomplished much during our time here and were able to set into motion our insights of God's will for our church. Thank you so much for allowing us this retreat. You have helped our ministry immensely."
-Harmony Hill Baptist Church
---
"Thank you so much for letting us enjoy your beautiful lodge. We enjoyed the wonderful loft upstairs and the view outside is breathtaking. We have a log cabin too so it was nice to have a bit of home away from home."
-Mattie
---
"We want to thank you for opening up your beautiful home to us. It has been a blessed retreat for us. We have so enjoyed the beautiful flowers, the fishing pond, the closeness to God we've experienced here and the special fellowship with your dear family."
-Tom & Edna
---
"Thank you so much for allowing us to come and stay in your lovely cabin in the woods. This was such a breath of fresh air to me. The beauty of God's nature is so refreshing. May God bless you with His richest love and peace. You have been a blessing to me. Thanks."
-Amy
---
"Thank you so much for letting us stay in your beautiful cabin. The setting is absolutely perfect and the environment creates a wonderful atmosphere for fun & lively activities as well as quiet reflection."
-Laura